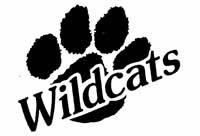 The Wildcats played an AWESOME game today!! We played the Vols and won 26-14. . . Ian had some great runs
and
tackles. . . That boy of mine sure knows how to play football...I hate that football season is almost over. It is my favorite sport for Ian to play!!! The next few pics are from a great run that Ian had where he scored a touchdown. . . I got some good shots of this run.
We have one more game on Tuesday against the Raiders which are undefeated. Both teams, the Wildcats and the Raiders are undefeated. . . so it should be a great game. . .I am looking forward to this one. . .Here are a few pics from today's game (got a new zoom lens--so I got some great pics) That is Ian carrying the ball. . .
This looks like it was almost a face mask. . . That is one tough guy. . .He got tackled at the end of this run, after he scored a touchdown. The tackle happened after the play was over. He hurt his back a little--he is pretty sore, but otherwise he is fine. . .
Here he is coming off of the field crying with his back hurting. . He only stayed out a couple of plays and was right back in the game!
Hunter is number 34--Ian is number 20. They are both focused on getting this tackle!! I think Ian and Hunter are such good ball players, and are good friends too! I hope they remain such good friends all through school. . . Who knows? They may play together at DB!!! They will look back and LOVE these pics...
Here is a picture of Tyler Holt,number 81, high stepping it before he got a huge tackle. Tyler is another one of Ian's best buds. . . He played a great game too.
Worked last night, so I am gonna lay down before I have a photo session this evening at 4. I will post a few more pics later. . . Have a good day.